Steps to a Virus Free Clinic!
At LSTC we take pride in having a germ and virus free clinic all the time. We do this through cleaning and disinfecting equipment, exam tables and counters, washing our hands frequently, and staying home when sick.
Several times throughout the day we clean and disinfect:
Check-in and Check-out counters
Door handles
Waiting room chairs
Bathrooms
Computers and desk working spaces
Exam room tables (sanitized after every use)
Gym equipment (sanitized after every use)
Exam tables in the gym (sanitized after every use)
Phones
Our hands
With the outbreak of this virus, we have increased the frequency of this to insure that COVID-19 as well as other viruses do not spread.
We have also moved our equipment further apart, to ensure we are following social distancing guidelines, and masks are required.
The Center for Disease Control and Prevention Recommends these Steps to Prevent the Spread of the COVID-19 Virus:
(https://www.cdc.gov/coronavirus/2019-ncov/about/prevention.html?CDC_AA_refVal=https%3A%2F%2Fwww.cdc.gov%2Fcoronavirus%2F2019-ncov%2Fabout%2Fprevention-treatment.html)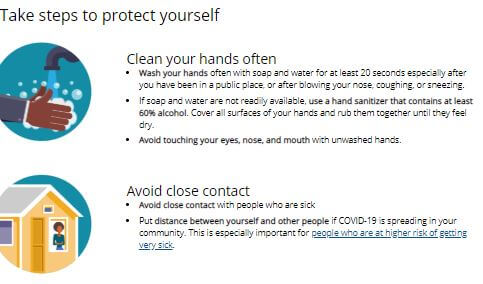 (photos from CDC website)
To protect yourself be sure to wash your hands. When you enter our clinic, we have hand sanitizer on the left hand side. Be sure to disinfect your hands before checking in. The CDC also recommends avoiding close contact with those that are sick. If you aren't feeling well or someone in your household is sick, give our office a call and we will get you rescheduled!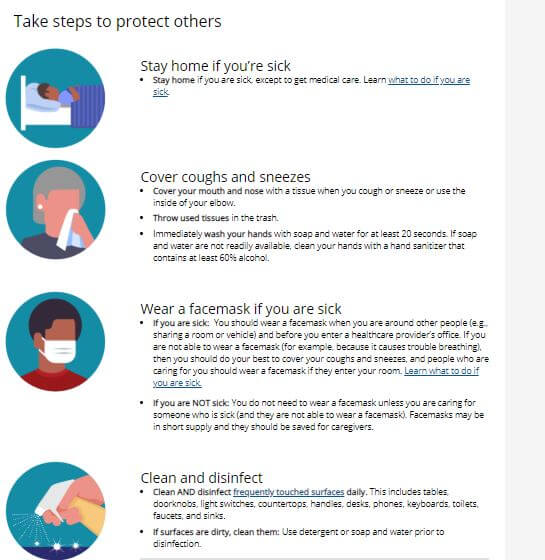 Together we can protect each other!
If you are sick, we ask that you stay home. Just give us a call and we will get you rescheduled. We have also told all our staff to remain home if they are sick.
When you cough or sneeze be sure to use a tissue or the inside of your elbow to prevent the spread of germs.
It is only recommended you wear a face mask only if you are sick.
Lastly, the CDC recommends cleaning and disinfecting surfaces often, especially those that are frequently touched.
If during your session you would like the piece of equipment cleaned again let one of our staff members know and we are happy to do so!
If you have any questions or concerns please give us a call at, 703-450-4300 and we will be happy to answer them! Happy Thursday and don't forget to wash your hands.
Tags: physical therapy, Corona Virus, COVID-19, sanitation, virus, preventing the spread